BELatina's Weekend Briefing is a weekly summary of the most important news you should know before starting the week.
A weekend full of good news? Yes, please!
Between the best moments from the Billboard Awards, Simone Biles' double pike, and ARod's men's makeup line, here's what you need to know this Monday.
Michelle Obama Almost Makes Us Cry Before Listening to 'Fallin'
Former first lady Michelle Obama introduced Alicia Keys Sunday night at the 2021 Billboard Music Awards, praising the artist's achievements on the 20th anniversary of her incredible album "Songs in A Minor," released on June 5, 2001.
"I remember what it felt like to feel like to hear the song 'Fallin' for the first time. It was edgy and soulful, graceful yet raw," Obama said. "This young singer was taking us to church and to the symphony and to a candlelight dinner and couples therapy and everywhere else, all in a little more than three minutes. I knew right then and there that this wouldn't be the last we'd hear from Alicia Keys, and in the years since, she's amazed us again and again in so many ways."
Simone Biles Breaks Another Record
Defending world champion gymnast Simone Biles on Saturday became the first woman to perform the Yurchenko double pike vault move in competition at the GK US Classic in Indianapolis.
The double Yurchenko pike, a highly difficult technique historically performed only by men, consists of a somersault on the trampoline, followed by a back handspring onto the jump table, and ending with a double somersault in the air to the landing.
Biles, 24, performed the move and then added two extra jumps for a slightly imperfect landing, CNN reported.
"I was just thinking, 'Do it like training. Don't try to like overdo anything,'" Biles said afterward, "because I have a tendency as soon as I raise my hand to kind of overpower things, and I did a little bit, but at least I was on my feet. It's a new vault, and I'm proud of how today went."
Alex Rodriguez Seizes Momentum and Launches His Men's Makeup Line
Alex Rodriguez launched a "Blur Stick" concealer for men with Hims & Hers, the beauty, and wellness company in which he and his ex Jennifer Lopez are investors.
The 45-year-old former baseball player partnered with Hims & Hers to develop the brand's first-ever makeup for men.
The Blur Stick is a convenient concealer designed to correct skin imperfections in men and is priced at $17, available in eight shades.
"I wanted to create a product that solved an issue I faced every day. I realized as I was jumping from meeting to meeting, I needed something quick and easy in my routine to conceal blemishes or razor bumps," Rodriguez shared on Instagram Thursday.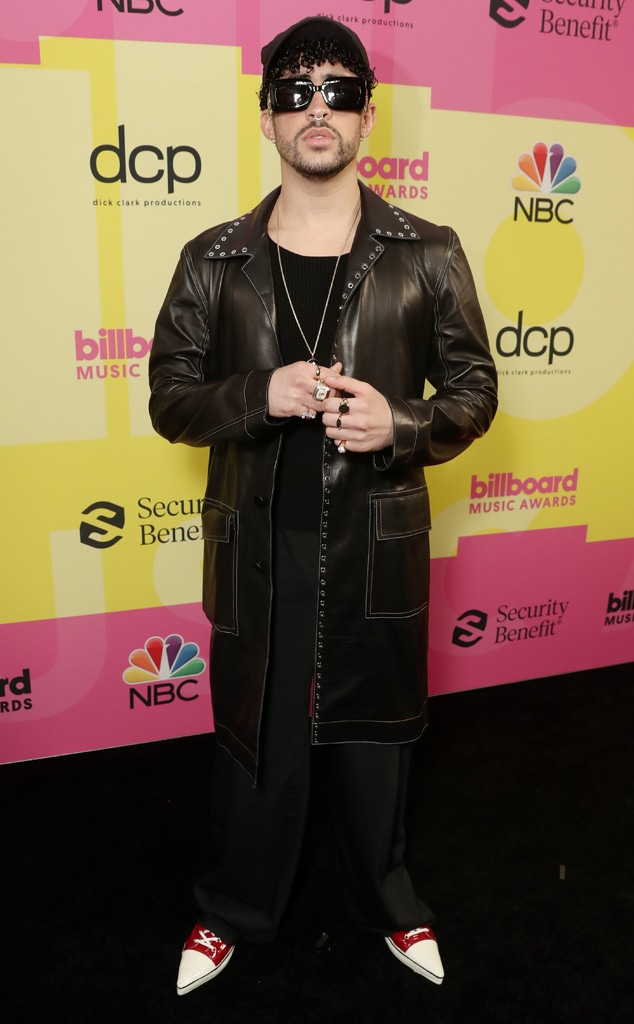 Bad Bunny and Karol G Sweep the Billboards in Latin Category
Benito won the Top Latin Album award for YHLQMDLG, Top Latin Male Artist, and Top Latin Artist. Similarly, Karol G won Top Latin Female Artist, and Eslabón Armado won Top Latin Duo/Group.
Anya Taylor-Joy Delights SNL With Her Argentine Accent
The Queen's Gambit star Anya Taylor-Joy made her Saturday Night Live hosting debut in the first live audience episode the show has seen since the start of the pandemic – and she did it in style.
After welcoming the audience, the actress went on to share some interesting facts about herself. "Now that you're hearing my accent, you may be surprised to know I was born in Miami, raised between Argentina and London, and my first language is Spanish," she said. "So legally, my ethnicity is Fashion Week."