A woman, Latina, and a phrase in Spanish will appear on the U.S. quarter. If this doesn't demonstrate Latinas' impact on the country's history, we don't know what will.
The U.S. Mint has confirmed that the quarter with Otero-Warren's face will go on sale on August 15.
Maria Adelina Isabel Emilia "Nina" Otero-Warren, originally from New Mexico, was a woman suffragist, educator, and politician in the United States. Otero-Warren created a civil service legacy through her education, politics, and public health work.
Otero-Warren was born in 1881 in the hacienda "La Constancia," near Los Lunas, New Mexico, into an elite Hispanic family.
In fact, her mother's family was one of the first to settle in the region, having arrived in 1598 during the settlement of Oñate.
An idealist from a young age
Under the education and inspiration of her mother's ideals, who was an activist for social and educational advancement, Nina Otero-Warren developed her social conscience as a young woman. She understood the idea of equal labor rights and opportunities for women as community leaders.
After marrying and divorcing Lieutenant Rawson D. Warren, Otero-Warren called herself a "widow" to avoid the stigma of divorce, kept the family name, and moved to New York to care for her brother.
In the city, the young woman was active in the Anne Morgan Shelter, an organization aimed at helping working-class women. After her mother's death, Otero-Warren formed close ties with artists, writers, and activists such as Ella St. Clair Thompson, the woman who led the Congressional Union for Women's Suffrage upon her arrival in New Mexico.
Otero-Warren advocated tirelessly in Spanish and English for New Mexico to ratify the 19th Amendment to the U.S. Constitution, which granted women the right to vote. For a constitutional amendment to take effect, it must be ratified by three-fourths of all states.
Bringing rights home
In New Mexico, Otero-Warren implemented strategies promoted by the Congressional Union, a national organization created in 1913 to advocate for women's right to vote. She lobbied state leaders to vote in favor of ratification. Since the first language of the vast majority of New Mexicans was Spanish, her bilingualism helped her work with opinion leaders in all communities to keep suffrage and women's rights at the forefront.
She was joined in her fight for women's rights by fellow "nuevomexicanas" — as Otero-Warren and her colleagues called themselves — Soledad Chávez Chacón and folklorist Aurora Lucero. Together, these women worked to pave the way for future women's leadership in the state. In 1922, for example, Chacón became the first Latina in the country to be elected to statewide office, serving as New Mexico's secretary of state.
Otero-Warren was the first Mexican American state leader of the Congressional Union in New Mexico, and her leadership won the support of the Spanish and English-speaking communities.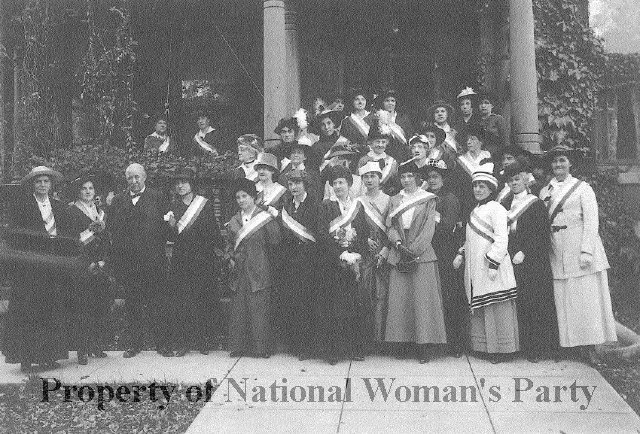 First Latina to run for Congress
Otero-Warren believed she could play an even greater role in advocating for Hispanics, especially on education, if she held a seat in Congress. New Mexico's population was so small that it had only one seat in the House of Representatives, so this single seat was a highly coveted position for her influence. she received the Republican Party nomination to run for the U.S. House of Representatives in 1922, after defeating incumbent Nestor Montoya. She received 466.5 votes to Montoya's 99.5. With this victory as the Republican Party candidate, Otero-Warren became the first Latina to run for Congress.
However, the news of her divorce during her election, her stance on Spanish language instruction in schools, and the hiring of Hispanic teachers generated much controversy. Democrat John Morrow eventually defeated her.
Otero-Warren and the Crusade for Education
From 1917 to 1929, she was one of New Mexico's first government officials as Santa Fe's Superintendent of Instruction. In this position, she was committed to improving the education of Hispanics, Native Americans, and rural students. 
She made several substantial changes during her tenure as superintendent. she repaired dilapidated school buildings and improved teacher salaries. Otero-Warren increased the length of the school year to nine months and created secondary and adult education programs in the county. she made extensive curriculum changes emphasizing bilingual and bicultural education.
After her term as Superintendent of Instruction ended, Otero-Warren continued to seek opportunities to integrate ethnic cultures and languages into the New Mexico public school curriculum.
President Franklin D. Roosevelt appointed her state director of the Civilian Conservation Corps (CCC), and in 1930 she became the CCC's Director of Literacy Education.
In 1941 she worked with the Works Progress Administration (WPA) and the CCC in adult education. She was appointed director of the Working Conference for Adult Teachers in Rio Piedras, Puerto Rico.
In the 1930s and 1940s, she also worked on preserving historic structures in Santa Fe and Taos.
Later years
Otero-Warren dedicated her last years to writing, where she expressed her opinion on education, social conscience, and other topics close to her career in magazines.
In 1936, her writings referring to her early life on the Luna hacienda were published as a book, "Old Spain in Our Southwest." She also published "Mexicans in Our Midst: Newest and Oldest Settlers of the Southwest."
In 1947, Otero-Warren started her real estate business in Santa Fe, called Los Dos Realty and Insurance Company. She continued to focus on selling homes and did so until her death at the age of eighty-three.
For Image credit or remove please email for immediate removal - info@belatina.com