On Tuesday, the price of avocados rose 34 percent, one of the biggest price spikes in almost a decade. Market analysts have suggested that even higher prices are yet to come. "Avocado prices could easily double or triple if we shut down the border," one analyst told Bloomberg News. "Because California is late and it's a small crop, Mexico is accounting for nearly all of our avocados."
The U.S. gets plenty of its produce from Mexico — just check out the stickers on your tomatoes the next time you're at the supermarket — but we rely heavily on our southern neighbor to fulfill our outsized demand for avocados. (This demand had at one time led to the formation of avocado cartels.) More than three-quarters of the avocados in our stores are from Mexico, while California only provides about 16 percent of our supply. We're also the largest consumers of Mexican avocados in the world. Over three-quarters of their avocado supply ends up in the US, with Canada and Japan as the next biggest consumers at 7 and 6 percent, respectively.
The fluctuations in price come as President Trump has been threatening to shut down the Mexican border on the basis of security. On Tuesday, during an appearance with the NATO Secretary General, Trump claimed that national security is a bigger priority for him than the economy. "All you hear me talking about is trade, but let me just give you a little secret. Security is more important to me than trade. So we're going to have a slower border or a closed border." By shutting down the border, or at least threatening to, the president hopes that migration from Central America will no longer be an American issue.
This approach of course does nothing to address the root causes of migration and will simply damage the U.S. economy. While dramatic changes in the price of avocados are an easy way for consumers to connect with the ground-level impact of a border shutdown, the Washington Post pointed out that the effect on the U.S. economy and job market are vast. Mexico is one of the U.S.'s most important trading partners, with over $1 billion of U.S.-Mexico in trade occurring each day. "[The] specter of trucks of rotting avocados is not a bad metaphor for what happens to a host of U.S. industries if you shut down border crossings," a former Clinton cabinet member told the Post.
TRUMP THE ANGRY PANDA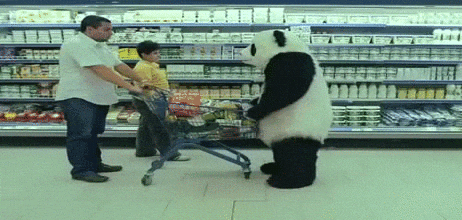 According to figures cited by USA Today, there are about 5 million American jobs that depend on border trade, many of which are tied to auto parts. "We have seen Mexico earthquakes, coastal labor disputes at ports of entries and tsunamis. All pale in comparison to the impact a prolonged border shutdown would have on suppliers, dealers and industry employees," a consultant in the auto supply industry told the paper.
For Image credit or remove please email for immediate removal - info@belatina.com