Mexican director Alfonso Cuarón's semi-autobiographical feature film, Roma, took home two Golden Globes at the 2019 awards ceremony over the weekend. This is Cuarón's second Golden Globe award for Best Director — he also was crowned the best director at the 2014 Golden Globes for Gravity.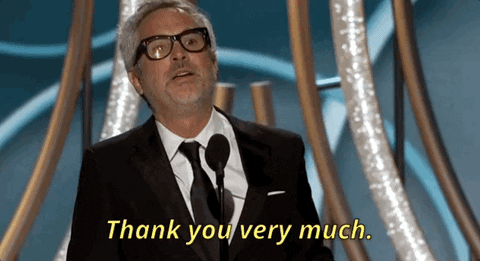 Roma, filmed in Mexico and shot entirely in Spanish and Mixteco, earned Best Foreign Film of the year.

Most of Roma unfolds inside a close replica of Cuarón's childhood home in the 1970s, situated in the Roma Sur barrio of México City. The film follows the working class and indigenous protagonist Cleo, a role played by Oaxacan-born Yalitza Aparicio, as she works as a cleaner for a white, middle-class family who are facing their own struggles.  

Netflix Competing with Studio Old Guard

Roma was released to Netflix in November and has been heavily favored to as an award winner ever since, having wooed a broad base of critics. Its success, coupled with the wins of Netflix's television series Bodyguard and The Kominsky Method, actually triggered a positive jolt to Netflix stock shares the following morning; the stock went up six percent, reassuring its shareholders, as well as the film and cinema community, that streaming services can hold their own against traditional media.
Acknowledging the Diverse Appetite of American Audiences
In one of Cuarón's post-win interviews, a journalist asked the director how he thought his film would have fared as a "conventional theatrical release," citing the fact that it was done in black and white, was not an English-language film, and had no recognizable talent, insinuating that American audiences can only reliably seek out films that are in English, full-color, and star familiar faces. The director clapped back, calling the question "unfair" and giving his work the credit it deserves. "[The] movie opened more than a month ago and is still playing. That is rare for foreign film."
Mexico Representing at the Academy Awards
Roma is sure to receive a host of nominations for the Oscars this year, including for Best Feature Film; unlike the Golden Globes (an award show where a feature-length film can be submitted for Best Drama or Best Foreign Film but not both), Roma will likely be nominated for both categories at the Academy Awards.
Cuarón was the first Mexican — the first Latino, for the matter — to win Best Director at the Academy Awards. Following Cuarón's win for Gravity at the Oscars in 2014, Mexican-born directors have taken home the Best Director awards for three out of the next four years. Alejandro González and Guillermo del Toro Iñárritu won in consecutive years for The Revenant and Birdman, while Guillermo del Toro won last year for The Shape of Water.
For Image credit or remove please email for immediate removal - info@belatina.com