It's Benito's birthday today! Bad Bunny, the Pisces Puerto Rican king, has given the sun another turn, and we can all assume the next will be filled with newsworthy events.
If there's one thing El Conejo Malo knows how to do is to push the envelope until no return. 
As we celebrate him and his contributions to pop culture, let's take a look at some of his greatest moments in the past year leading up to his birthday. 
Bad Bunny started off 2022 with a bare Instagram account and content on Tik Tok. He's been sporadically creating videos for the video platform since. 
@badbunny

2022, lo de "maldito" es de cariño, yo sé que tu serás un buen año 😅🤞🏻
Photo courtesy of Wrestling Inc.
Just when we thought Bad Bunny couldn't conquer any more stages, he proved us wrong.
The Puerto Rican artist made his debut in wrestling on the most important ring of the WWE, WrestleMania, leaving everyone speechless with his moves between the ropes.
In front of more than 25,000 fans, Bad Bunny debuted in the first live match since the COVID-19 pandemic.
Photo: Getty.
El Barrio de San Juan, in Puerto Rico, celebrated its basketball team, Cangrejeros de Santurce, as it emerged from obscurity with new faces behind the helm.
The team founded in 1918 announced on social networks that Bad Bunny officially joined Jonathan Miranda and Noah Assad as the new partner of the renewed franchise.
Cangrejeros is one of the longest-running teams in the Caribbean, reaping its greatest successes in the late 1990s and early 2000s. Known for being one of the greatest dynasties in National Superior Basketball, with five championships under their belts in six years, the Cangrejeros is another Puerto Rican emblem undermined by financial scandals.
​​
Photo courtesy of Billboard.
Benito appeared in a promotional video for the new season of HBO's 'The Shop: Uninterrupted,' the unscripted series from LeBron James and Maverick Carter.
Guests joined NBA superstar LeBron James and entrepreneur Carter to discuss confidence on the big stage, fatherhood, and WrestleMania.
Photo: Frito-Lay North America, PepsiCo, Inc.
Bad Bunny and Cheetos continued encouraging the Latinx community to leave their mark. This time, and following the success of the Bad Bunny and Naughty Cheetah 2020 campaign, the collaboration's rallying cry continued to ring loud in a second phase.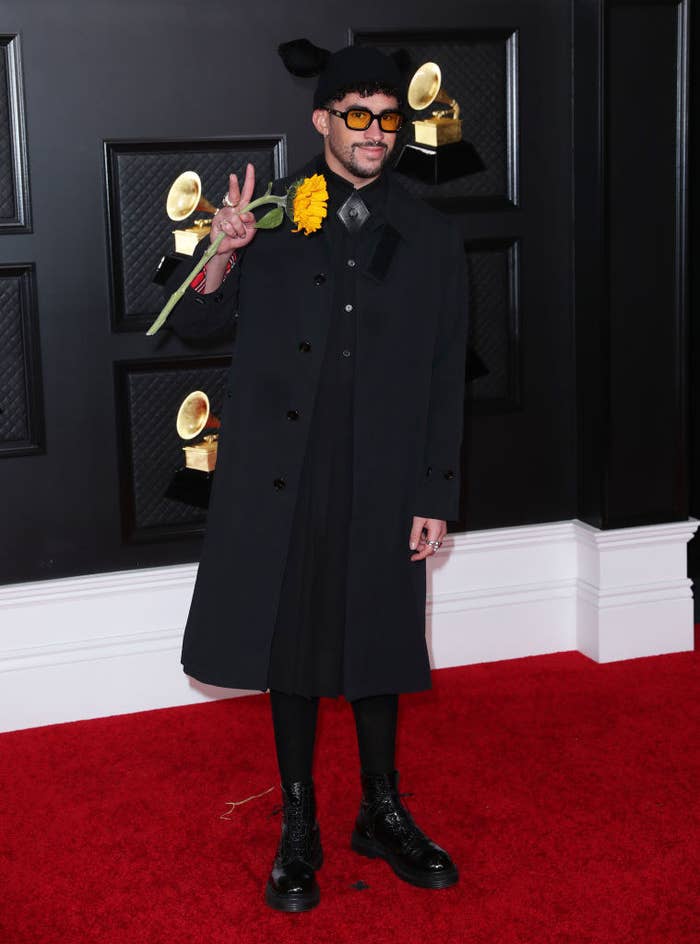 The Grammys of 2021 was one for the books. From the jaw-dropping WAP performance with Cardi B and Megan Thee Stallion to Noah Trevor telling Beyonce of her new feat in what appeared to be quite a random moment, it was just a wild night overall. However, Bad Bunny had many of his fans swooning with his appearance and even more so when it was announced that he had won two Grammy Awards; one for Best Latin Pop Album for "YHLQMDLG" and another one for Best Pop Duo/Group Performance. 
Photo courtesy of belatina.com
The animated group's singer-songwriter Damon Albarn confirmed in an interview with Warp to have recorded a song with none other than Bad Bunny.
Albarn, who once fronted Blur, one of the most important Brit Pop bands of the 90s, has taken a historic step in the fusion of genres and big names in music.
"It was fantastic to work with him. He's a very talented guy," Albarn said of the Bad Bunny collaboration, adding that "I don't care what people think, I'm always doing what I think can generate great music, you know?"
Photo courtesy of rollingstone.com
The most anticipated event of the year — and the pandemic — was finally held at Puerto Rico's Hiram Bithorn Stadium where thousands of Bad Bunny fans were able to enjoy the return of the king of urban music to the stage.
The show began with a message narrated by Puerto Rican actor and producer Benicio del Toro, which was accompanied by images alluding to the country's culture.
"This is the chronicle of a star that jumped from the bottom of a great volcano, under the sea, into another galaxy… It is the chronicle of a legend, which represents what beats in these latitudes", was heard through the loudspeakers.
The audiovisual piece that opened the concert "P FKN R" was a concept of the artist himself in collaboration with figures such as writer Hermes Ayala, filmmaker Arí Manuel Cruz, and del Toro.
Photo courtesy of BELatina News/ Vogue/ Stefan Ruiz
Benito has broken with the social conventions imposed on the once macho and misogynistic reggaeton genre and has amassed a fan base that advocates, like him, breaking paradigms.
"I was always a very independent child," Bad Bunny told Vogue over the phone from a hotel room in Las Vegas. "I liked to dress my own way, do my own things, make my bedroom my own space."
Benito Antonio Martinez Ocasio, better known as Bad Bunny, surprised his fans with a photoshoot for Vogue, where he models the bags of the season and we were 100 percent here for it!
Photo courtesy of nme.com
After his successful stint on the small screen in "Narcos," Bad Bunny will make his feature film debut in "Bullet Train," a bloody action movie starring Brad Pitt.
Fans got a sneak peek at the new film thanks to the official trailer released by Sony Pictures this week that shows Pitt and Benito punching and stabbing each other in a train car to the beat of "Stayin' Alive."
Benito, ¡que sigas cumpliendo más!
For Image credit or remove please email for immediate removal - info@belatina.com